As you'd expect, camping and hiking isn't as popular in the wintertime as it is in more temperate seasons. And it's no surprise, considering no one (except for all you masochistic Marines out there) really likes being wet and cold and miserable. But if you gear up properly, you can conquer the cold and enjoy a memorable winter outdoor adventure.
There's solitude and unique beauty out there in the colder months, and it's worth exploring with the right amount of preparation. Here are some tips for keeping dry, comfortable, and safe at the destination of your choice.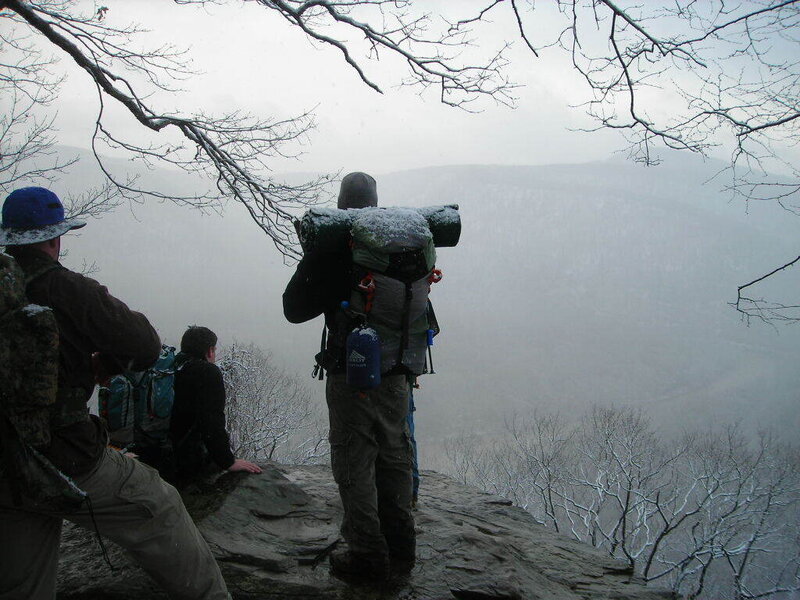 Apparel tips
Do. Not. Wear. Cotton. When cotton gets wet—and a few things inevitably will—it stops insulating heat, and it takes forever to dry out. Wear wool and synthetics for the best heat retention and moisture management.
As the saying goes, "if your feet are cold, put on a hat." You lose over half your body heat through your head, so make sure you bring a hat.
Bring an extra hat and gloves. Even if you're the kind of person who never loses stuff, just do yourself a favor and bring an extra pair of gloves, and an extra hat. Nothing will bring your epic winter adventure to an early end than frostbitten fingers or ears. There's no "toughing it out" in these situations.
Layer up (obviously). Make sure you bring along the right jacket, and make sure it's waterproof. Marmot makes a three-in-one component jacket with a water-resistant synthetic inner liner and a waterproof exterior shell, which is perfect for shedding layers depending on the weather. If the sun is warm enough, peel off both layers and stick to a simple baselayer like North Face's long-sleeve zip-up. Just remember: Avoid cotton, opting instead for polyester, especially the moisture wicking kind.
Don't double up your socks. Some people think wearing two is smarter, but when you do that, you reduce the amount of room in your shoe and your blood flow is constricted, which makes your feet even colder. Sure, you can wear thin sock liners if you want, but make sure you're only wearing one proper pair of socks. And choose Merino Wool, the granddaddy of backpacking sock material. We recommend buying American, so go with Darn Tough.
Trail tips
First timers: Don't venture too far off! If you're trying out winter hiking/camping for the first time, don't pick a spot that's too far away from the road. That way if something goes wrong, you can safely bail.
Turn around frequently to survey your route. Especially if snow is falling. Getting lost even in light snowfall is dangerous.
Don't forget sunglasses and sunscreen. Sunlight bouncing off snowdrifts will burn you just as much as a day at the beach. Sometimes even worse. Protect your skin.
Wear waterproof boots. And consider wearing high boots, especially if you're going to be trudging through snow. The Zamberlan 980 Outfitter is a good choice for this, with its GoreTex membrane and Vibram outsole. Soaked feet will bring an end to your trail conquering, so get the necessary defense.
Consider using GPS. Depending on how many miles you'll be trekking, it's probably wise to keep track of your route with a GPS device. If you don't want to rely on a handheld device, you could wear a watch like the Garmin Tactix, which lets you drop "breadcrumbs" along the path. So even if snow covers up your footprints on the way back, you'll still be able to find your way home.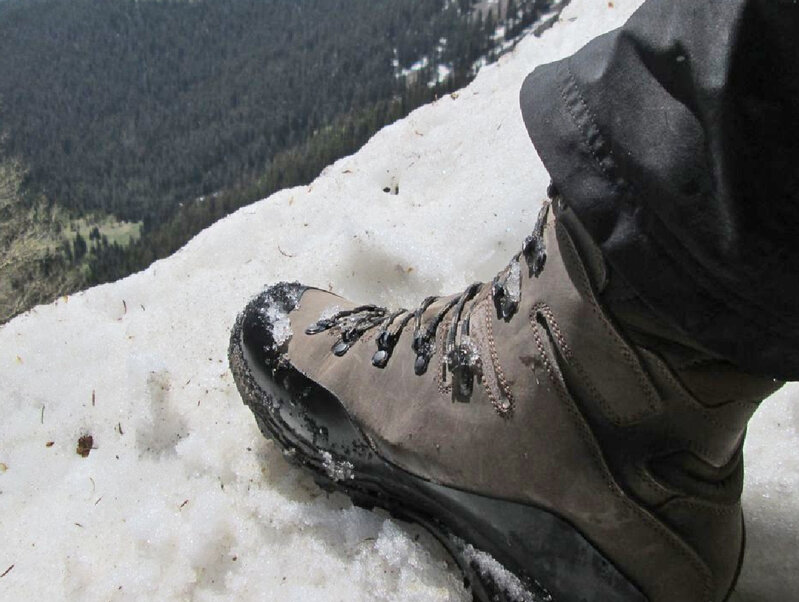 Campsite tips
Melt snow using coffee filters. This is a good trick for keeping dirt and debris out of the water supply you work so hard to produce. As for melting snow, be sure to put a quarter inch of water in the bottom of the pot so you don't scorch the bottom as you're heating it up. And don't bother with bringing a water filter, since they don't work very well in high altitudes and cold temperatures. Just melt snow and bring it to a boil for 10 minutes and you'll be good to go on the water front.
Use vacuum-insulated containers. Hydro Flask containers are perfect for retaining heat. When you wake up in the morning, cook up some food that you can eat later on the trail, and then store it in this 12-ounce food flask and it'll stay hot for most of the day.
Make sure your sleeping bag and tent are up for the job. The Alps Cedar Ridge's Wolf Creek bag is a good choice for tackling zero-degree nights with its 2-layer construction that eliminates the cold pockets of air that can build up even on temperate nights spent under the stars. As for a tent, it might be wise to invest in a serious highaltitude gladiator like the Tenshi from Nemo Equipment which can withstand fierce winds and includes a condensation curtain for keeping its inhabitants dry.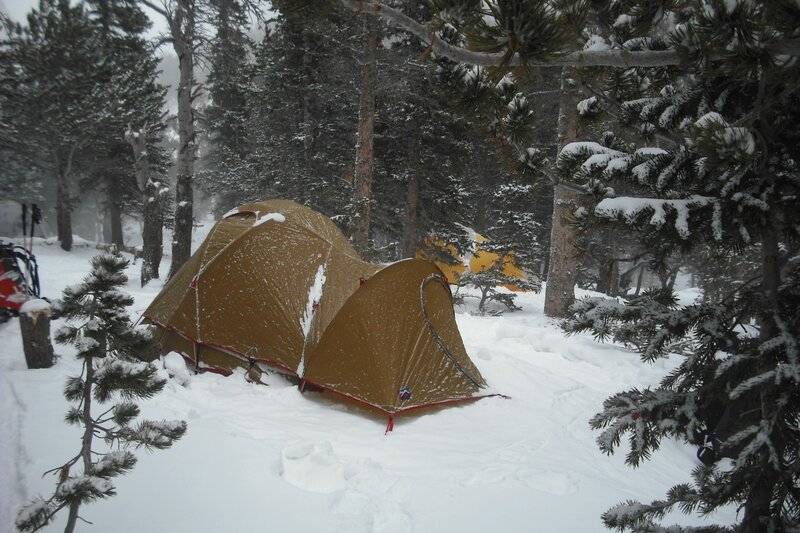 And lastly, here are three "NO S**T" tips
Check the weather before you go. While the point of this trip is indeed camping in cold weather conditions, it would be smart to reschedule if inclement weather is on the horizon. If there's a blizzard headed your way, put the brakes on your trip. Especially if you've never done this before.
Keep drinking water. Dry winter air will dehydrate you just as quickly as a hot summer day. Keep drinking water, and check the color of your urine during your trip. If it's light colored or clear, you're properly hydrated. If it's dark … better drink up.
And lastly, tell someone where you're going. Even if you're going with a friend. Should you get lost or injured, it's safe for people back home to know where you are.
If you've made it through this article, you may have picked up on a slight uh … pessimistic tone. If this guide is to be believed, winter camping is nothing but a miserable affair, a cold and uncomfortable descent into doom. But it's really not. If you take all necessary precautions, you can enjoy the wilderness in a way you might not immediately seek out. The chance to watch the morning sunrise illuminate beds of crystalline snow gives you a uniquely peaceful stillness. Bundling up by an evening fire, even as the temperature drops, makes you feel secure and safe.
And then there's the personal feeling of conquering the elements. This is your world, and the exploration of it is your privilege as a human, during every season it offers. So layer up, load your gear into the car, and find a campsite this winter worth visiting. But please, for the love of mother nature, don't forget those extra gloves.
Do you have any tips for winter camping and hiking? Comment below to add your adventuring advice.
---
Gear mentioned in this article
---