Mizu's rugged products are made for more than just enjoying the outdoors. They're made for protecting them.

Jussi Oksanen got an email one day from an old adventuring buddy. He opened the attachment and found a photograph of the very first bottle he ever sold back in 2008. The 27-ounce bottle bore his company's first tagline, "Today for Tomorrow," and its battered exterior told a story of its eight-year saga of exploration.
The steel bottle went to majestic Yosemite, on climbing trips in Norway, and several snowboarding and hiking missions across Europe. It was stuffed into backpacks alongside climbing gear, and dropped off cliffs and crags, and it's still alive and going on trips today, getting filled up with water before each one. And Jussi takes pride in knowing what each refill means.
As the cofounder of Mizu, Jussi's mission is simple: Get single-use, disposable plastic containers out of the environment. And as the nation celebrates the historic centennial of our National Parks, it's a mission that's all the more important as we look forward to the next hundred years. If you've ever explored the outdoors and seen litter strewn about—a crushed water bottle amidst a rock pile, a plastic bag tugging at a bush in the breeze, or trash stacking up on the beach at low tide—something clicks in your brain: This doesn't belong here.
So you pick it up. You stuff it in your bag or your pocket and you pitch it into nearest trashcan. Jussi would like to eliminate the need to do so all together.
That's what Mizu is all about. They're the maker of containers that aim to take the place of single-use plastic products. It's a lofty goal, but spending time with Jussi and his colleagues at their office in Del Mar, CA gives you the sense that it's an achievable one.
Meet Jussi. (It's pronounced Yoo-see)
Jussi is a Finnish-American adventurer, entrepreneur, and former professional snowboarder and Olympian. His snowboarding career lasted 17 epic years, where he competed in seven Winter X-Games as well as the 1998 Olympics in Nagano, Japan. His career inspired him to emigrate to the United States from Finland, where he eventually became a citizen.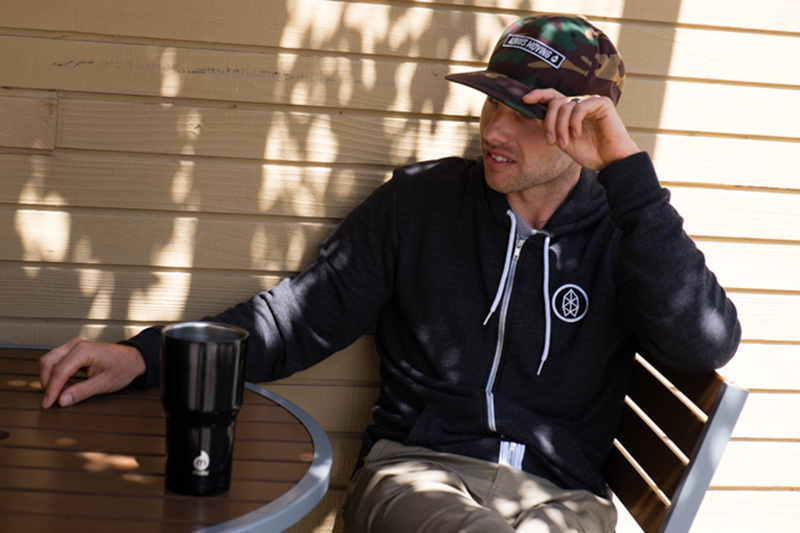 Recycling and reuse is a cultural hallmark of Finland, with over 90 percent of plastic, glass, and aluminum containers getting recovered each year. Jussi recounted stories of his youth, recycling cans and bottles in exchange for money at the depositories found in urban centers. The environmentally conscious trend naturally led to the popularity of reusable bottles and containers. So when he moved to the United States, he experienced a culture shock. "At my first neighborhood with my wife, one of the neighbors would get entire pallets of Arrowhead bottles delivered every single week."
Jussi's neighbor isn't alone. At last check in 2013, Americans spent nearly $12 billion on bottled water in a single year, the result of what Jussi emphatically calls the "greatest marketing scam of all time."
It's not a stretch to use such rhetoric. There are some deep investigative stories on the subject of the water industry in America, but the main gist is that people are buying bottled water when they can and should just drink regular tap water. Your tax dollars already go toward public works that clear groundwater of bacteria and contaminants, so why are you buying water again? Aquafina and Dasani, for example, are just bottles of the same municipal water that flows from your tap. But marketers have us convinced that bottled water is healthier, even though it isn't. And if the main reason you buy bottled water is because you think it tastes better, just ask yourself if that taste is really worth contributing to the 38 billion single-use water bottles Americans pitch into landfills every single year—and that's not even counting the ones that litter our national parks, wildernesses, beaches, and rivers.
The idea that built a brand
The idea for Mizu started with a challenge. Jussi and his friend Brad Kremer, a cinematographer who worked with him on his films, dared their friends to use one container for everything they use out on the slopes, trails, or anywhere they traveled. Get out of the single-use practice. You think, "Today, I'm going to have my morning coffee in a mug instead of a disposable cup. I'm going to hike this mountain with a hydration pack instead of a plastic bottle."
The idea worked. Jussi and Brad's friends freed themselves of the single-use mindset. They stopped using disposable stuff for three months, six months, a year … the idea was successful, and Mizu was born.
Their first product was the 27-oz vacuum-insulated, stainless steel bottle he sold to his friend eight years ago. Vacuum insulation ensures hot contents stay hot for about half a day, and cold contents remain cold for nearly a full 24 hours, providing the buyer with yet another reason to choose a reusable bottle over a disposable one. After their first line proved a success, the idea flourished into a greater mission. Now, Mizu is leading the charge, aiming to produce reusable versions of commonly used items like cups, bottles, mugs, and wine glasses. They even launched a line of reusable utensils, which promptly sold out.
Each product they make is designed to take the kind of beating that turns them into artifacts of adventure, like the bottle in the email Jussi received. Mizu employees are just like their customers: Outdoor junkies like campers, snowboarders, mountaineers, and urban adventurers who enjoy skateboarding and biking. For people like them—the kind of people who'd pick up trash along the hiking trail—tough, reusable gear for eating and drinking is the best option. Mizu uses 18-grade stainless steel, BPA-free Tritan plastic, and a new line of scratch-resistant coating called Hammer Paint in their products. Their gear is meant to last for years, thrown into backpacks, clipped onto belts, tossed into the back of a truck, and hauled up mountains, leading to one fewer piece of trash to pollute the playgrounds of the world.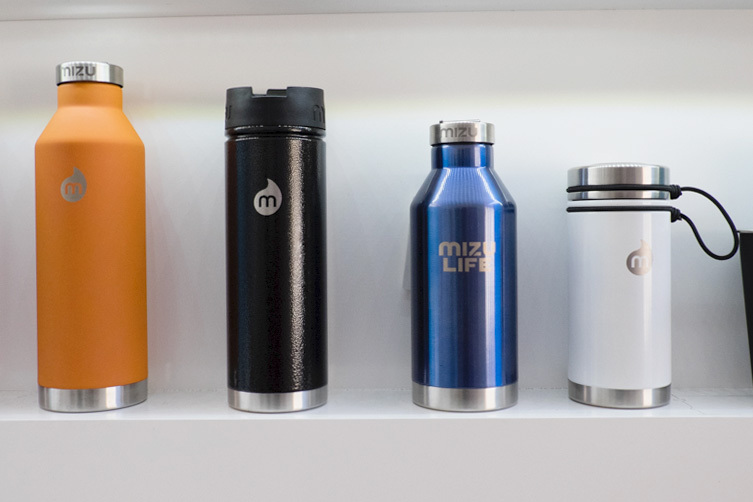 Protecting Where We Play
The greatest thing about Mizu isn't even a product you can buy, but a cause you can believe in. They founded a nonprofit called Protecting Where We Play, which installs free-to-use water bars in pre-adventure staging areas like gear stores, visitor centers, and surf shops. They're designed to get you to think twice before heading to the refrigerator to buy water. Just fill up with good 'ol taxpayer-funded water straight from the bar, and a digital counter on the top keeps track of the number of plastic water bottles the bar has kept out of the environment. They've installed 12 water bars in popular adventure destinations across the US and Canada, with plans to install more, and a percentage of every Mizu purchase goes toward funding the project.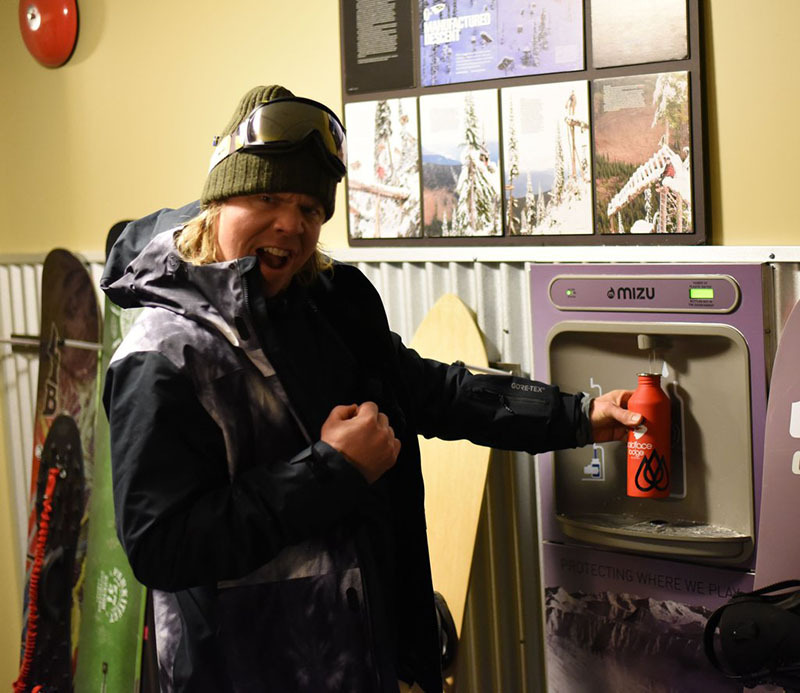 Jussi doesn't expect to be able to change the world overnight, but tackling the disposable bottle problem through entrepreneurial means is a way to get started. While the spirit of their first tagline, "Today for Tomorrow" remains alive, their latest motto exemplifies the brand's ongoing commitment to respecting the world that offers us so much: "Enjoy the journey. Leave nothing behind."
"I'm giving back to the places that have made me who I am," Jussi says. "The slopes, the parks, and the areas I've explored and made a living in is just one big playground, and taking care of it is my way of giving back."
Bringing a little Finnish thrift to the country he emigrated to might just be the most patriotic thing Jussi Oksanen has ever done.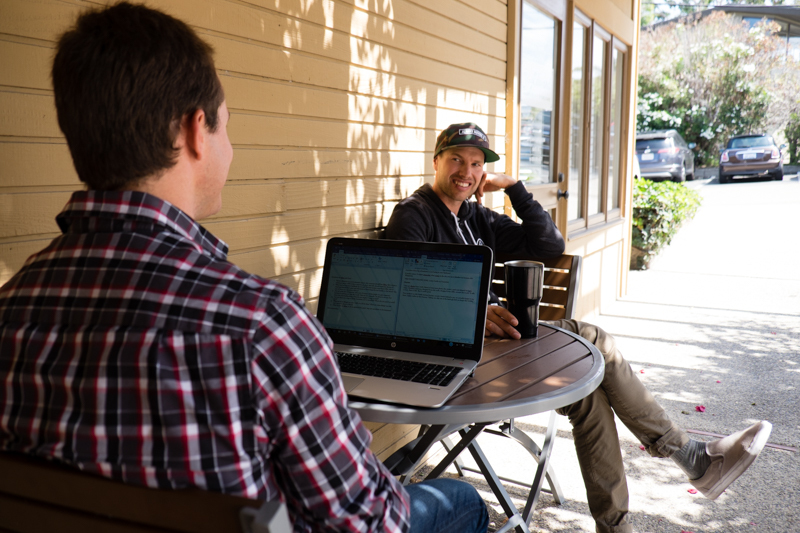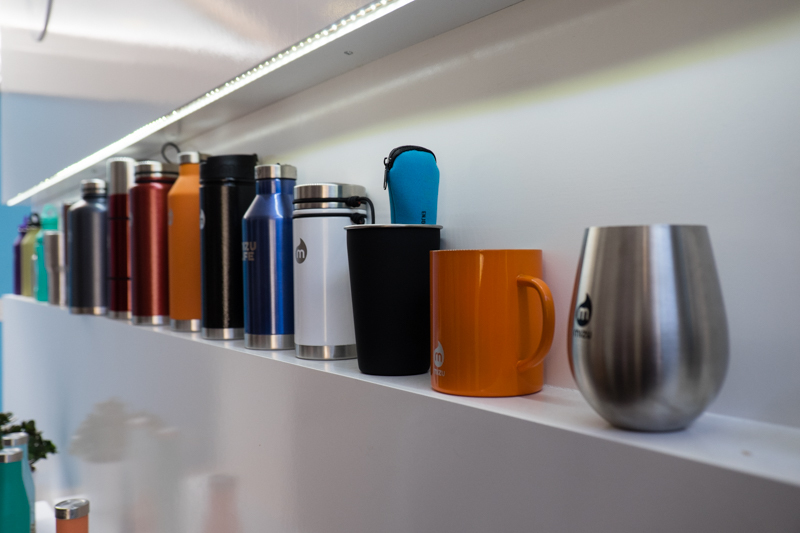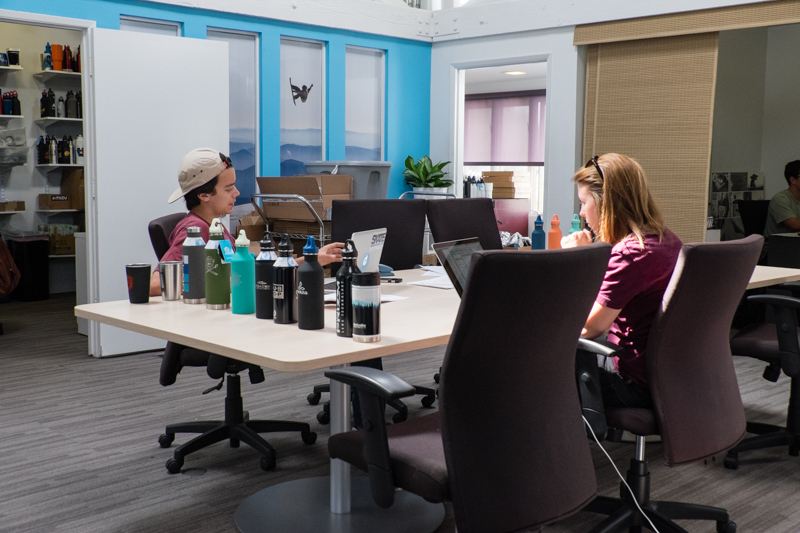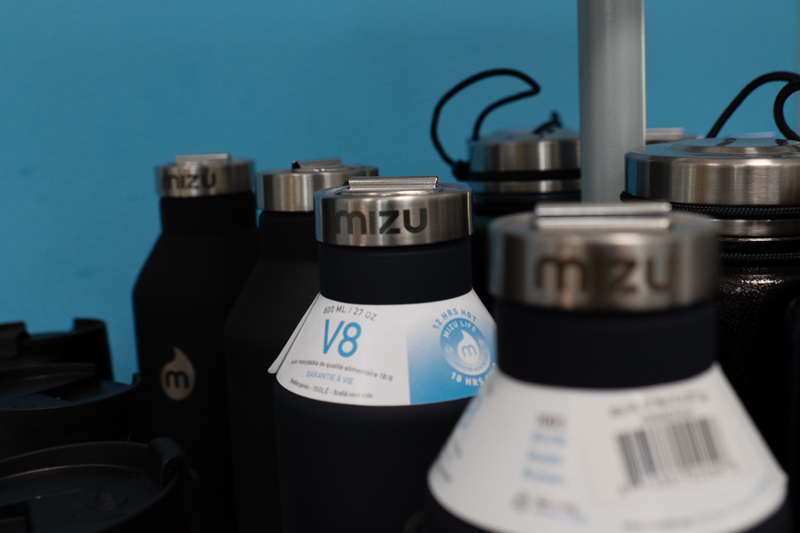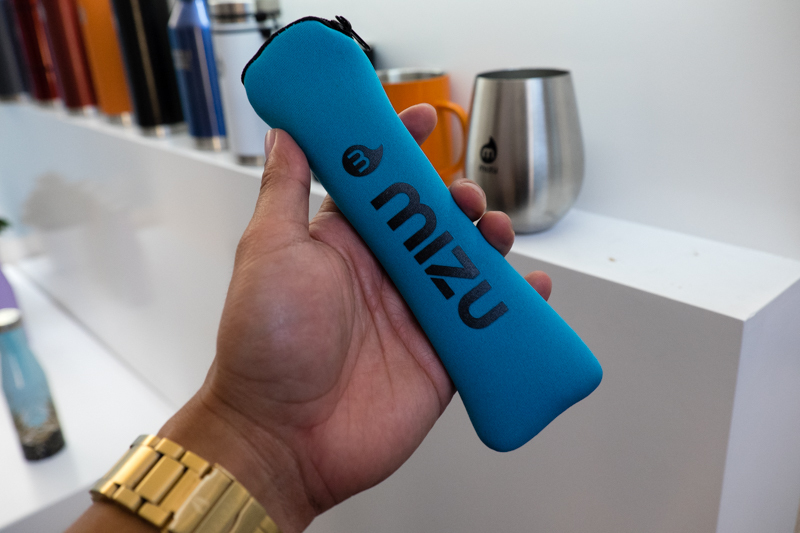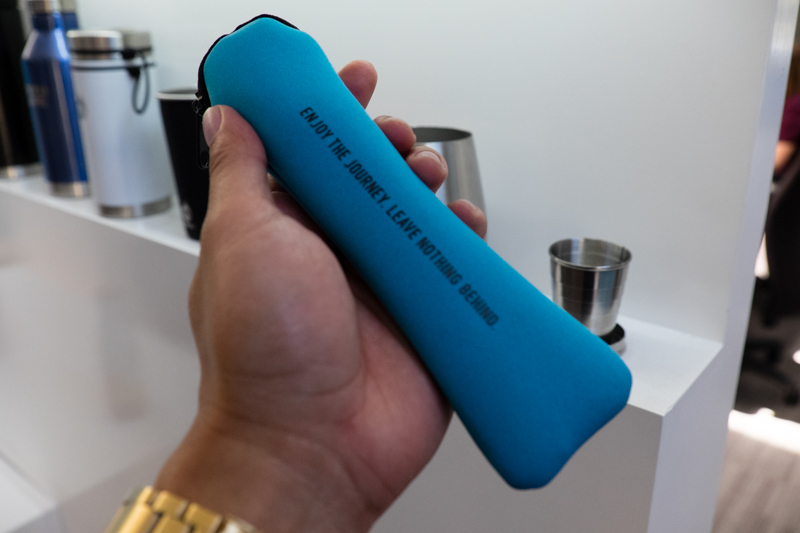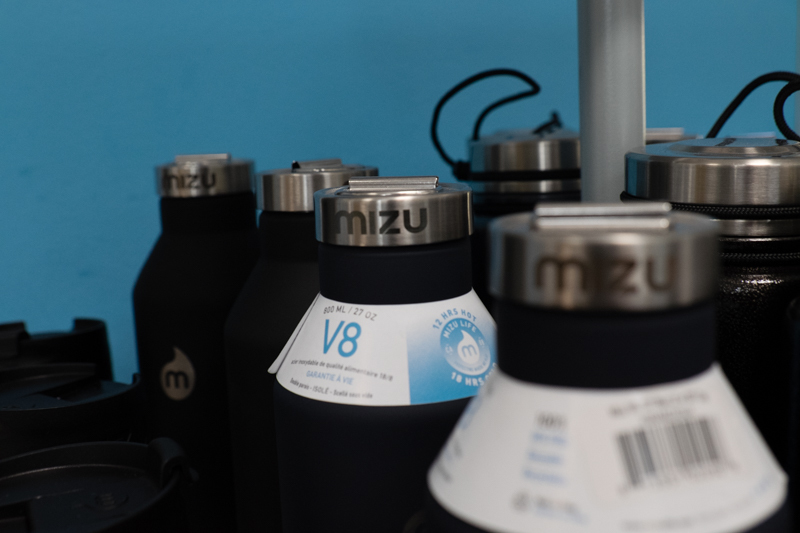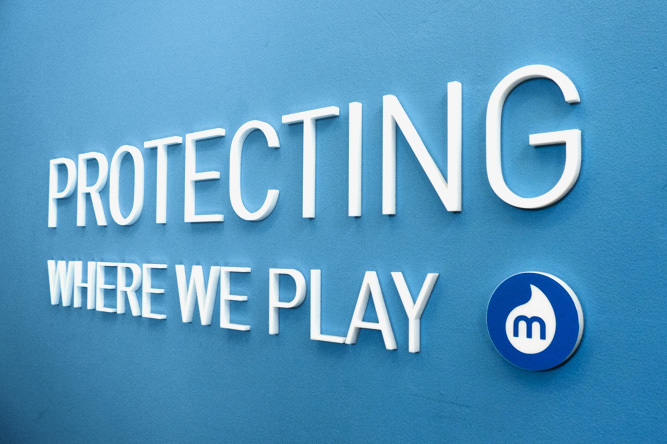 Special thanks to the creative adventurers at the Mizu office for inviting us over for a visit.
Photos by Mark Lagrisola.
Enjoy your own journey with Mizu gear, and leave a comment below about where you plan to go for your next adventure. Plus, get a free sport cap with all purchases of narrow-mouth bottles until 8/28!