Death Dealer Tactical is a new addition to the GovX family of brands. We had the chance to speak with Pete about his gear, including the Made-in-America Patriot line.
Pete has been around patriots his entire life. He comes from a legacy of police officers, with men in his family standing at the Thin Blue Line for generations. Pete's path didn't make him a police officer, but he served for a while in state corrections, and ultimately enlisted in the US Army for a time. He served three and a half years in the airborne infantry, but unfortunately suffered a debilitating back injury and never deployed. Sadly, he was forced to accept a medical discharge from the military, so Pete pushed himself to find his own fulfilling way of contributing to the mission of patriots, and to make a living doing it.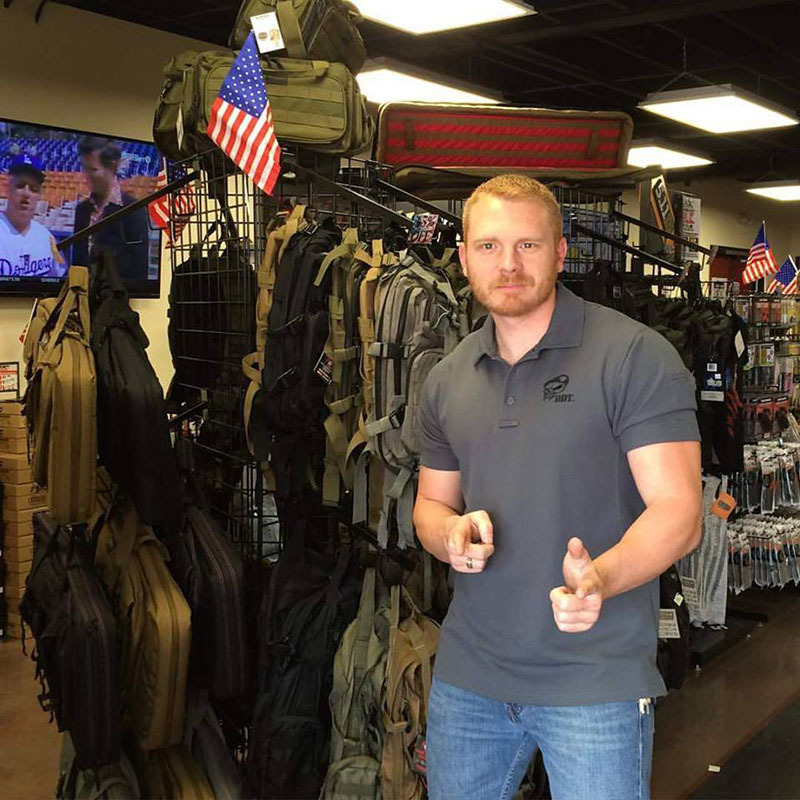 So he started saving money. He put a little bit away over the years, until he had enough to start his own tactical gear company. With just a couple thousand bucks, he started a retail business in Tennessee and named it Death Dealer Tactical. He hit the ground running at gun shows and trade shows, selling gear from other brands and impressing his customers and vendors with his eagerness to get great gear into the hands of people who serve their country and communities.
But this was just the start of Death Dealer Tactical. What Pete really wanted was his own line of gear. It started with one bag—the Venom 48-Hour Assault Pack, which remains one of Pete's bestsellers today due to its solid build, impressive features, and affordable price point. It's got four main compartments for separating your belongings, a built-in hydration pack, a 600 denier nylon construction with a water resistant lining, and it's adorned with MOLLE webbing for attaching extra pieces of gear.
This versatile work horse of a bag carried Pete's brand to new heights, and pretty soon he was designing and selling his own rifle and pistol cases, range bags, day packs, and plate carriers. The success of his brand even enabled him to launch a separate Patriot line of exclusively made-in-USA gear, which attracted particularly loyal customers looking for an American alternative to gear manufactured overseas. His top-selling made-in-America product is by far the Patriot Plate Carrier; which Pete proudly considers superior to standard issue gear. He launches into his signature, practiced, and enthusiastic pitch:
"Standard-issue plate carriers don't get the job done. When you've got military brass writing the contracts for these, you'll end up with poor quality gear or hand-me-downs," Pete says. "Take the side plates, for example, which tend to bite into your rib cage or arm pits. If you're a big guy, the side plates might dig into your back. If you're smaller, they'll get in the way in the front. But my carrier includes adjustable side plates, so you can wear it exactly how you want it. Weight is evenly distributed, and the padded spacer mesh resists sweat and wicks away moisture. Plus, it's 100% made in the USA."
Pete doesn't make a fortune doing what he does. He speaks fondly of big-name brands like 5.11 Tactical and other mega tactical companies, but prides himself on providing an alternative for budget-concerned customers. "Competing with 5.11 is like trying to play in the major leagues with a whiffle bat," he says. "I pay myself just enough to get by. I don't need to live lavishly. I drive a 2002 Nissan. All I want is to grow my company and keep making great gear."
He's humble about the growing attraction people have for his brand, and responds by offering a no-questions-asked approach to customer service. "With a lot of other brands, if you end up having a problem with a product, getting something done about it can be a pain in the ass," he says. "But with us, we just take care of it for you. We've got a lifetime warranty. If there's an issue with your bag, we'll fix it or replace it. That's it."
If you enjoy visiting trade shows, tactical conventions, and gun shows, you may come across Pete, shouting out the merits of his gear like an old school street market vendor. And he means every word. He's able to give a pitch about his weapon cases, assault packs, plate carriers, and more. He's not quite a one-man show, as his wife joined his team as full-time operations manager, allowing Pete more time to continue designing and producing new gear. If you run into him at a trade show, stop by and let him pitch you on Death Dealer Tactical. You'll meet a fine American, and you'll probably be convinced to buy American too.
---