---
THEY MADE IT!
On May 24, Retired Staff Sgt. Chad Jukes, 2nd Lt. Harold Earls and Capt. Elyse Ping Medvigy reached the summit of Mount Everest. They've made it safely back to Advanced Base Camp and their journey is nearing its end. Stay tuned for more stories from their quest in future articles.
Greetings from Everest!
A couple nights ago, our cofounder Tony was at dinner with his family when an unrecognizable number buzzed his cell phone. He considered ignoring it. But imagine his surprise when he answered the phone and spoke to 2LT Harold Earls, calling from a satellite phone on the slopes of Mt. Everest.
Harold described 60 mph winds and painfully thin atmosphere, and said it wouldn't be long before he and his fellow climbers—SSG Chad Jukes and 1LT Elyse Ping Medvigy—would be requiring oxygen. He gave an update on the team's status and spoke of their high spirits and motivation to summit the top of the world.
Imagine receiving that call while you're enjoying a nice steak dinner.
And in our inboxes this morning, this message from Harold greeted us: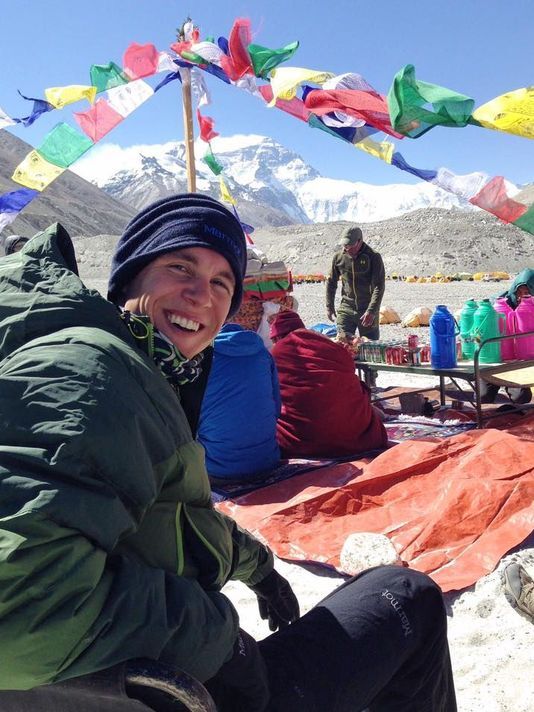 USX Team and Supporters,
My fingers are shaking typing this due to the frigid cold but our historic USX Everest Expedition is well underway. We are moving tomorrow to Advanced Base Camp at over 21,000 feet and the team is strong and healthy. The journey to get to this point has been quite the stressful adventure. We landed in Kathmandu to find China delaying entry into Tibet until 15 April, a week later than planned. Once we were finally on a flight to Tibet, we got diverted to Chengdu, China due to weather. With all the ups and downs, we eventually made it to Base Camp and are still on target to summit around May 20-25.
However, our mission of Everest comes second to our primary mission of raising awareness for soldier mental health. We have been tremendously blessed to have garnered large national media attention due in part to Amy our publicist and CSM Burnett serving as USX's stateside spokesperson. We have been featured in USA Today, Army Times, ABC, CBS, Fox, CNN, The Weather Channel, HLN and many other radio shows and news sites.
We are certainly raising a great deal of awareness at a national level about our cause, but most importantly we are making an impact on an individual level. We have had several soldiers and veterans reach out and share that they are struggling with PTSD and even suicide and did not know where to turn but heard CSM on TV and felt compelled to reach out for support. CSM always said that "if we could save just one, then all of this would be worth it." I truly believe that we have made an impact already in our soldiers and veterans regardless if we ever summit Everest in late May. This means everything to me; knowing that what we are doing is making a positive difference and potentially saving lives.
I share this with you all because none of this would be possible without you believing in our team and cause, many from a very early stage when USX and Everest was just an idea I had as a cadet. I want to send along my deepest thanks to you personally because in all honesty, we owe it to you that we have been put in this position to make a large impact. I realize that our team is standing on the backs of many people and I can promise you we will continue to work every day to continue to positively change the lives of our soldiers and veterans and not take for granted the opportunity we have before us.
Please continue to keep us in your prayers and continue to spread the word of our cause. Together we are going to make a big impact on our nation and her veterans.
Sincerely,
2LT Harold Earls, US Army
USX Honorees
Conquering Everest is a matter of discipline and training, but also of acclimatization. In order to reach the summit safely, climbers must perform a series of ascents and descents in order to get used to the air. There are set locations on the mountain the climbers will reach, and at these certain points, they will pause to honor a particular soldier, some of whom are unfortunately no longer with us. Harold, Chad, and Elyse are committed to reaching the summit of Everest to raise awareness for veteran mental health and to prevent soldier suicide nationwide.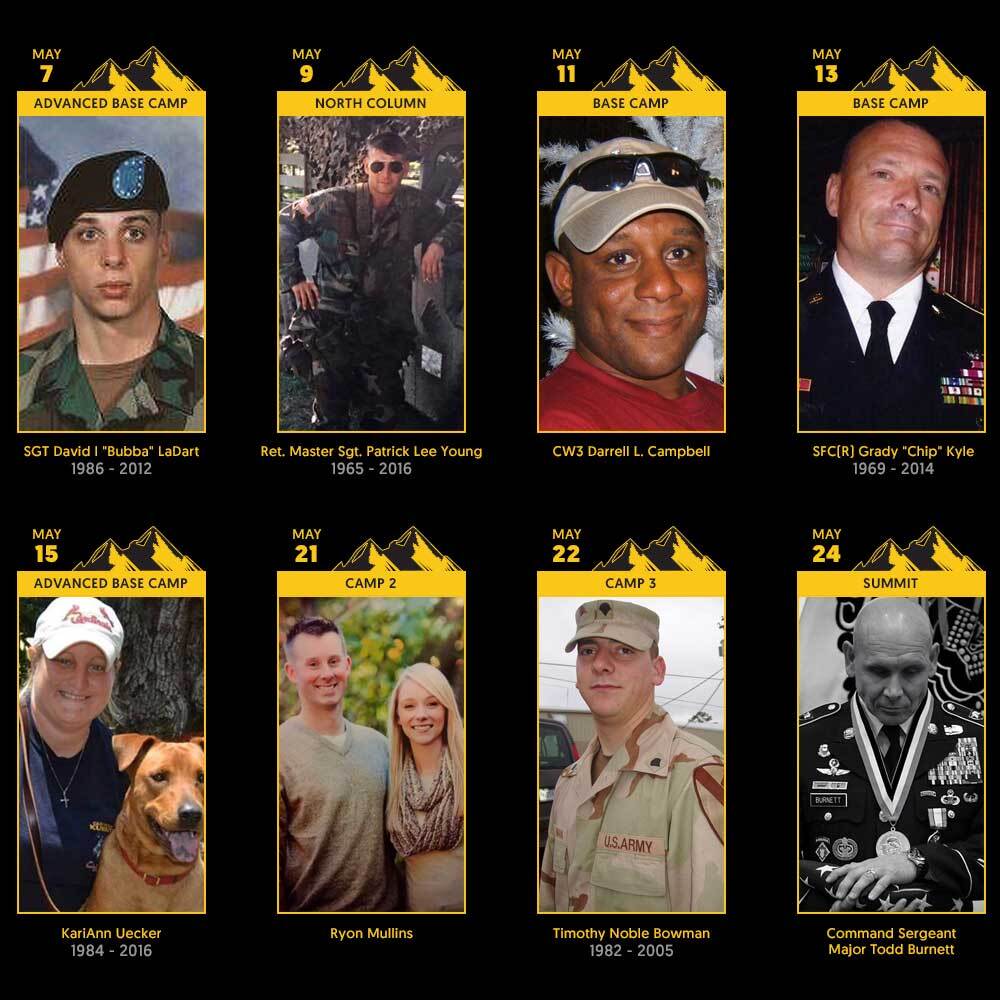 ---
Social Updates from the Team
📷: climber Elyse taken while #TeamUSX was at advanced base camp ice climbing training. #Everest #iceclimbing pic.twitter.com/NQmWyZQG0I

— USX (@TeamUSX) May 2, 2016
---
The quest begins!
The soldiers of USX Expeditions and Explorations have officially started their journey to the summit of Mt. Everest. With the goal of putting the first active duty US soldiers on the summit, the group arrived at Kathmandu, Nepal earlier this month. 45 days from their arrival in country, the group intends to make their first attempt at the summit.
Meet The Team
These three soldiers will brave the tallest peak in the world.
---
The Climbers
2LT Harold Earls
A graduate of West Point, founder of USX and native of Cumming, GA.
1LT Elyse Ping Medvigy
A field artillery officer and experienced climber from Sebastopol, CA.
SSG Chad Jukes
This veteran from Ridgeway, CO who lost his leg due to injuries sustained in Iraq aims to be the first combat-wounded veteran to reach the summit.
Some of you may know reaching the peak of Everest is a patient, diligent task, requiring climbers to make a series of ascents and descents at increasingly higher elevations to acclimate their bodies to the dangerously thin air.
We'll be following their progress here on this page, so keep coming back to track their ascent!
---
Follow the Journey
---