---
I'm generally pretty rough on the bags I use. In addition to being active duty, my husband and I running our own CrossFit gym, and taking care of our daughter, there's a lot of abuse that goes into the bags I carry. Once I leave the house for the day, having a bag that's durable enough and large enough to fit all of my stuff is an absolute must.
I was excited to try out the Orange Mud Modular Gym & Tri Bag, especially since my current bag was exploding. Overall, it held up to my expectations and demands!
I found myself carrying my boots and my uniform, and as a result I grew to appreciate the size of it. It's a considerably larger bag, which took a little getting used to, but being able to fit all the stuff I have with even a little room left over was great.
I was able to fit three pairs of shoes in the separate compartment. I like that I didn't have to put my shoes or work boots in the main compartment with my change of clothes, though I admit it took me a few times to figure out exactly how that shoe compartment worked. There's a little piece of Velcro that you secure one side of the separate compartment to the top of the inside of the bag, and a side zipper for easy access to the compartment. I was easily able to pack two changes of clothes and still have room for my uniform, which was a huge issue with my last bag.
Orange Mud really thought about the athlete when they made this bag. It has a very spacious wet bag that can Velcro up to the inside so you don't lose it, and it even has a handle which you can use to hang up on a hook in the changing room. Very useful. The wet bag is especially useful for active duty individuals who regularly go from gym to work, or work to gym. The last thing you want is your uniform to be in contact with your sweaty, wet clothes. This lets you keep things nice and compartmentalized.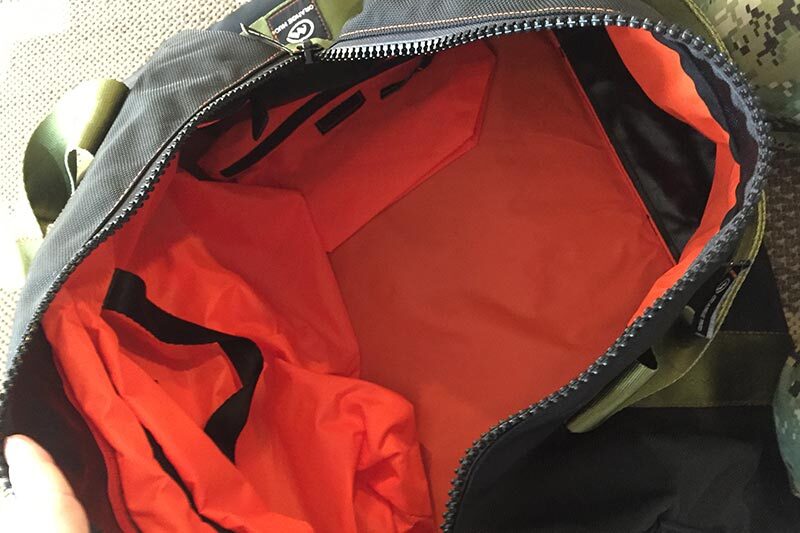 The internal wet bag, perfect for keeping sweaty clothes separate from everything else.
The bag has four pockets on the outside for storing smaller things like keys and wallets. My only wish for this bag is for a few smaller pockets on the inside, because I found myself emptying the whole thing looking for small items that fell to the middle. A small gripe in an otherwise great bag, though.
I recently took it with me to Savannah, GA for the Master's Nationals Weightlifting competition, and it easily fit all my gear. The YKK zippers are large and durable, the straps are made of industrial seat belt webbing which feel great on the shoulder, and the whole thing just feels like a complete, sturdy package.
Oh, and a bonus for all those folks out there who like to buy American. This bag is 100% made in America.
Fantastic work from a great brand that admires and respects the modern athlete! I highly recommend this bag!
Want to try out this bag for yourself? Get your member's-only price on Orange Mud's Modular Gym bag.
---
About the Author
Jessica is an active duty US Navy officer, CrossFit coach, Olympic lifter, nutrition consultant and a high-spirited wife and mother. She runs Crossfit Rife alongside her husband in Virginia.
---